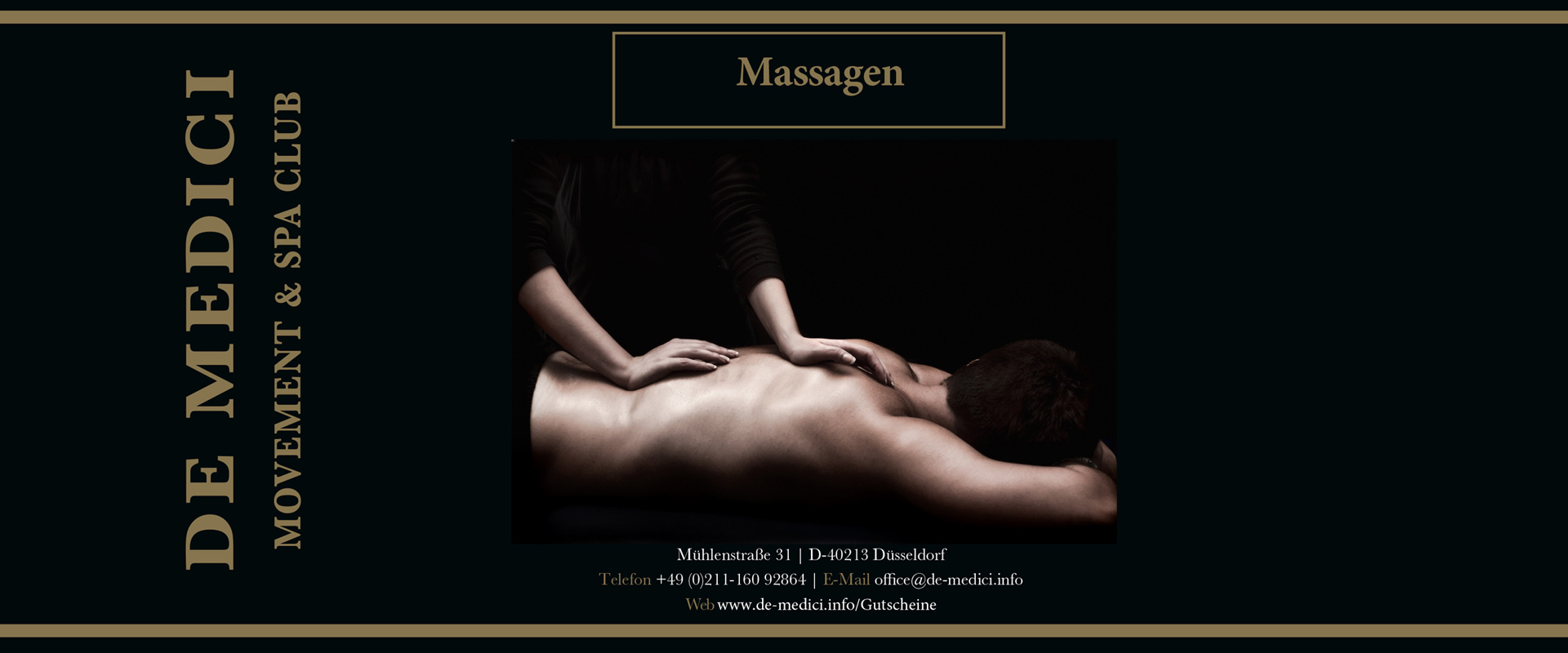 MASSAGE
From Friday, April 14th, 2023, we offer you the opportunity to book a relaxing massage on the weekend and use the sauna area in the De-Medici-Spa for 2 hours free of charge.
To ensure a smooth process, we recommend that you check-in 60 minutes before your appointment and arrive on time in the massage area.
We want to ensure that you get the desired appointment, so we ask you to make your reservation in advance online or by email.
Please note that we cannot guarantee availability at all times and that cancellation policies apply to online bookings.
The following appointments Massage + Sauna are available to you:
Thursday from 5:00 PM to 9:30 PM
Friday from 5:00 PM to 9:30 PM
Saturday from 10:00 AM to 9:30 PM
Sunday from 9:00 AM to 3:00 PM
and Holidays from 9:00 AM to 3:00 PM​
We look forward to welcoming you and providing you with an unforgettable break!
FULL BODY massage
The massage is one of the oldest remedies and is used for the mechanical influence of the skin, connective tissue and musculature by stretching, tensile and compressive stress. The most important effects of the classical massage are increased circulation, relaxation of the muscles, dissolving of adhesions and scars, Pain relief and improvement of tissue metabolism.
30 min  65 Eur
45 min  79 Eur
60 min  99 Eur
Aroma OIL massage
Muscles & senses pampering massage. A wellness pleasure that combines the well-being of a massage and the effects of essential oils in a special form. Relief from stress, tension and mental depression. Aromatic massage uses warm essential oils. No oil resembles the other, and every essential oil is a fragrance personality with certain modes of action.
60   min  105  Eur
90   min  145  Eur
120 min  179  Eur
Sport massage
Sports massage is a deep-tissue massage aimed at loosening tense muscles and eliminating or relieving the resulting pain. Sports massage is mainly chosen and appreciated by recreational and professional athletes. But also, people who generally want a more vigorous form of massage find sports massage precisely the correct application.
30 min  65 Eur
45 min  79 Eur
60 min  99 Eur
Traditional Thai massage
Traditional Thai massage seeks to provide a full body experience while harmonizing and aligning the energies that flow all throughout the body. According to certain traditional Thai massage concepts, there is a network of energy lines that run all across the body.
60   min   99  Eur
90   min  145 Eur
120 min  179 Eur
TibeTAN BACK massage
The Tibetan massage has its origin in the monasteries of Tibet and is there by Tibetan monks. It is a very gentle form of back massage. The essence of the Tibetan massage lies in the quality of the touch. By the particularly gentle, almost meditative, kind of strokes with warm oil, tensions and hardenings in the body can dissolve. This oil massage is a gentle method to relieve stress, and to find more serenity, deep relaxation and rest..
30 min 65 Eur
45 min 79 Eur
60 min 99 Eur
Ayurveda Massage
A benefit for the whole body. You will be massaged with precious Ayurvedic oils, relaxed and revitalized. Abhyanga has a positive influence on the entire organism. They nourish the tissues, stimulate the metabolism and promote cleansing and purification of the body
60 min      99 Eur
90 min    145 Eur
120 min  179 Eur
TRIGGERPOINT Massage
The massage is used to strengthen the spine and intervertebral discs. The massage is performed with St. John's Wort oil. The oil can have a beneficial effect on the intervertebral discs and nerves, as well as a relaxing effect on the cramped muscles. Low errors can also be compensated for.
30 min   79 Eur
45 min   99 Eur
60 min  124 Eur
Hot Stone Massage
A fascinating combination of oil massage, energy work and the soothing effect of warm lava stones. The Hot Stone Massage relaxes, invigorates the body and mind and brings a deeply effective relaxation of the muscles. In addition, the metabolism is stimulated, the blood circulation is activated. The body is detoxified and purified.
60 min  125 Eur
90 min  165 Eur
120 min 189 Eur
HoNEY Massage
Treat yourself to an extraordinary experience! A sugary honey massage. Honey is an ancient holistic natural remedy that works positively on our body. This massage with honey oil stimulates the metabolism, stimulates blood circulation and improves symptoms such as tension, migraine and sleep disorders.
60 min   105 Eur
90 min   145 Eur
120 min 179 Eur
Lomi Lomi
The Lomi massage is full of compassion, warmth and movement. The aim of this massage is to regenerate and bring people into harmony with themselves and their surroundings. Blockages are reduced so that the path becomes clear for a harmonic and energetic life. A beautiful sensual whole body massage. Enjoy the warm oil, the touches on and under the body – let yourself fall.
60 min   125 Eur
90 min   165 Eur
120 min 189 Eur
CUPPING massage
The cupping massage is very effective in tension, muscle hardening, rheumatic diseases, fatigue and fatigue. In children, the cupping of appetite, bronchitis, cold and diarrhea can be used. In the cupping massage, the cupping glasses are guided over the oily skin. Depending on symptoms, this technique can be used in different massage forms.
30 min  85 Eur
45 min 109 Eur
60 min 134 Eur
HERBAL STAMPS Massage
The herbal stamps massage is an experience ritual for everyone who attaches importance to the special. The interplay of rhythmic stamp massage and an Asian rest together with the hot ginger Lemongrass herbal stamps regenerates the stressed body, surprises with energy effects and activates the self-healing power of the organism. When the steam ritual is added, the herbal punch is opened and the moist warm herbs are distributed on the skin. Here the cell begins to smile. The metabolism is stimulated and the elasticity of the skin is increased. The blood circulation is promoted and physical tension is relieved. Pamper yourself with an Asian spa experience!
30 min   85 Eur
45 min 109 Eur
60 min 135  Eur
FOOT & LEG Massage
The classic foot and leg massage is an extremely soothing and powerful massage. It relaxes the muscles, stimulates the blood flow and eliminates the feeling of "heavier" legs.
30 min  60 Eur
45 min  75 Eur
VIBRATION MASSAGE
VIBRATION MASSAGE MASSAGE-GUN
vibration massage helps with muscle fatigue, soreness, cramps, and stiffness. This massage tool is the ideal device for supporting muscle recovery, fascia and trigger point treatment for athletes and individuals who suffer from severe tension or muscle problems. You can customize the focus and intensity of the massage with your therapist using the innovative technology of this massage tool.
10 min  25 Eur
20 min  40 Eur